I am first to admit that I am not a good cook, especially in the sense of creating all my recipes from scratch. I also know I am TERRIBLE at recipes and I'm not sure why. Whether I follow the directions exactly (as I do with baking) or if I improvise just a little to adjust to my own palate, it never comes out quite like I wanted it. I could be too hard on myself or I could just be a bad cook. Either way, I will take the easy way out if I can. Although I am not a huge fan of Food Network's Sandra Lee or Rachel Ray (even if she doesn't annoy me as much as some), I fully am aware that I cook very similarly- "semi-homemade" meals cooked in "thirty minutes." One of my latest and greatest finds is a delicious Pad Thai sauce that is almost ready to go. Pad Thai is one of those dishes I actually crave. I love the sweet and sourness of the sauce, the texture of the noodles...it's just so good. When I went to our local Asian market to get the ingredients to attempt Pad Thai from scratch, I came across this bottle of sauce. There aren't any preservatives or high fructose corn syrup- just half the ingredients that was on my recipe list! What a deal! Instead of buying several items all I needed to buy was just one bottle! Fortunately, it has cured several cravings and will definitely be a staple in my kitchen.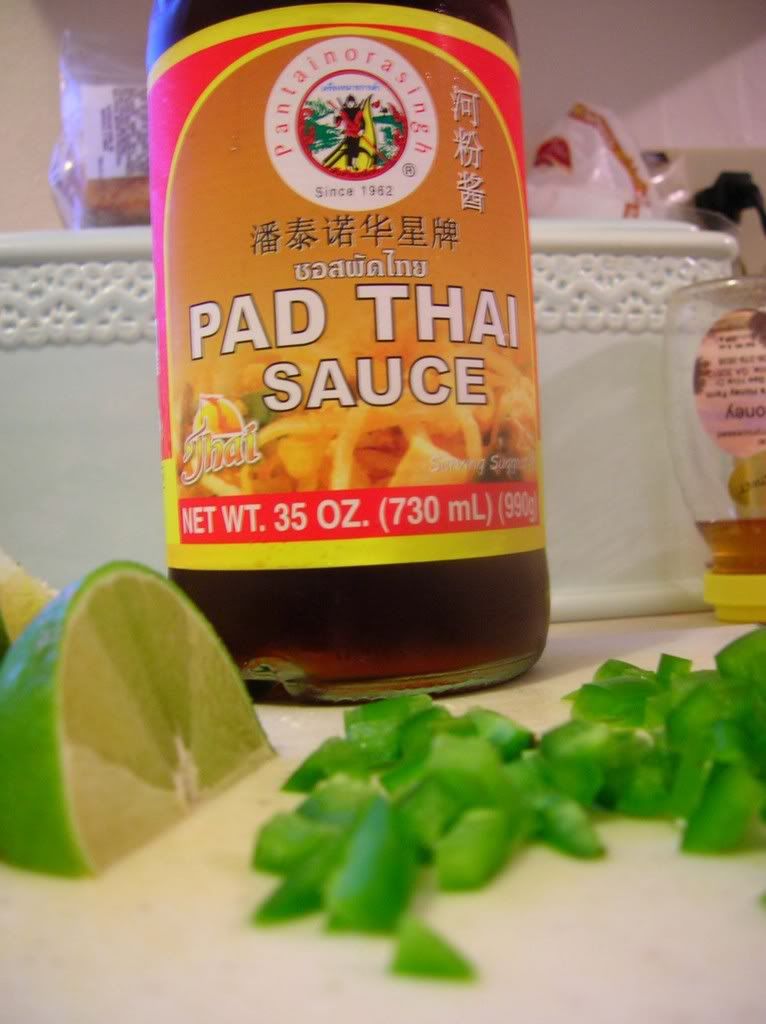 1 bag of rice noodles (medium width)
1 bottle of Pad Thai sauce
1 small red or green jalapeno pepper (seeded and minced)
1 cup crushed peanuts (roasted and salted)
1-2 cups diced tofu (you can used cooked chicken or shrimp too)
1 cup fresh bean sprouts
1 egg (beaten)
1 tbsp minced garlic
olive oil
lime wedges
chopped cilantro
Cook rice noodles as directed. You normally would flash cook them in some boiling water. They cook REALLY fast, so keep an eye on them. They usually only take about 1-2 minutes- any longer they'll get too mushy. You want to be sure they are cooked about 2/3 of the way since you'll finish cooking them in the sauce.
For the sauce: In a wok or large pan, saute garlic, red jalapeno, and tofu (or chicken or shrimp) in olive oil until tofu is slightly browned. Move to the side of the wok and add egg. Scramble apart from the tofu. Once cooked mix together. Add cooked noodles with as much sauce as you like (usually about 1/2 -2/3 cup for a whole bag of noodles). Stir fry together until everything is mixed and covered in sauce. Serve with a sprinkle of crushed peanuts, chopped cilantro, bean sprouts, and a lime wedge to squeeze on top. (OPTIONAL: I usually add in a some mixed frozen veggies that I've cooked separate.)