So, it's been
SOOOOOOO
long since I've posted. It's been what...more than four months? I'm sorry dear
internet
for not posting (not that I have a long list of following fans) but there have been some changes in our little household. I'm about four months pregnant! Yes! Thus the lack of posting. With the first trimester blues, there hasn't been much cooking going on here. I was not only feeling sick most of the time, but extreme fatigue doesn't lend itself to much. We've been eating a lot of homemade pizza, jar sauce
spaghetti
(Newman's marinara is pretty good), and tacos. Very, very dull.
While I was going through some old photos, I did find one recipe I never posted! My brother and his lovely girlfriend gave me a vegetarian cookbook last Christmas. It has an
absolutely
delicious recipe for a very versatile peanut sauce. It is perfect for summer rolls or a quick dinner, which is what I used it for. At the time, I bought these beautiful
Chinese
eggplants from the farmers market. What better way to use them but in peanut noodles!
Hopefully this post will be start (again) of more to come!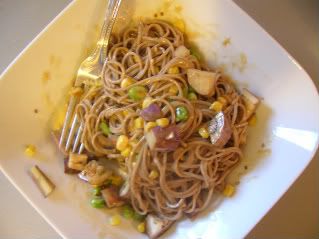 Chinese Peanut Sauce
directly from The New Moosewood Cookbook
1/2 cup good peanut butter
1/2 cup hot water
2 tbs soy sauce
2 tbs sugar
3 medium cloves of garlic, minced
1 tsp cider vinegar
1 to 2 tbs minced fresh cilantro
cayenne to taste
salt to taste (if needed)
1) Place peanut butter in a small bowl. Add the hot water, and stir patiently with a spoon or a small whisk until uniformly mixed.
2) Stir in remaining ingredients and mix well. Cover tightly and refrigerate. Let it come to room temperature before serving.
for Peanut Noodles:
Toss peanut sauce with buckwheat (soba) noodles and your favorite veggies. I used sauteed Chinese eggplant, edamame, and roasted corn. It was very, very tasty!