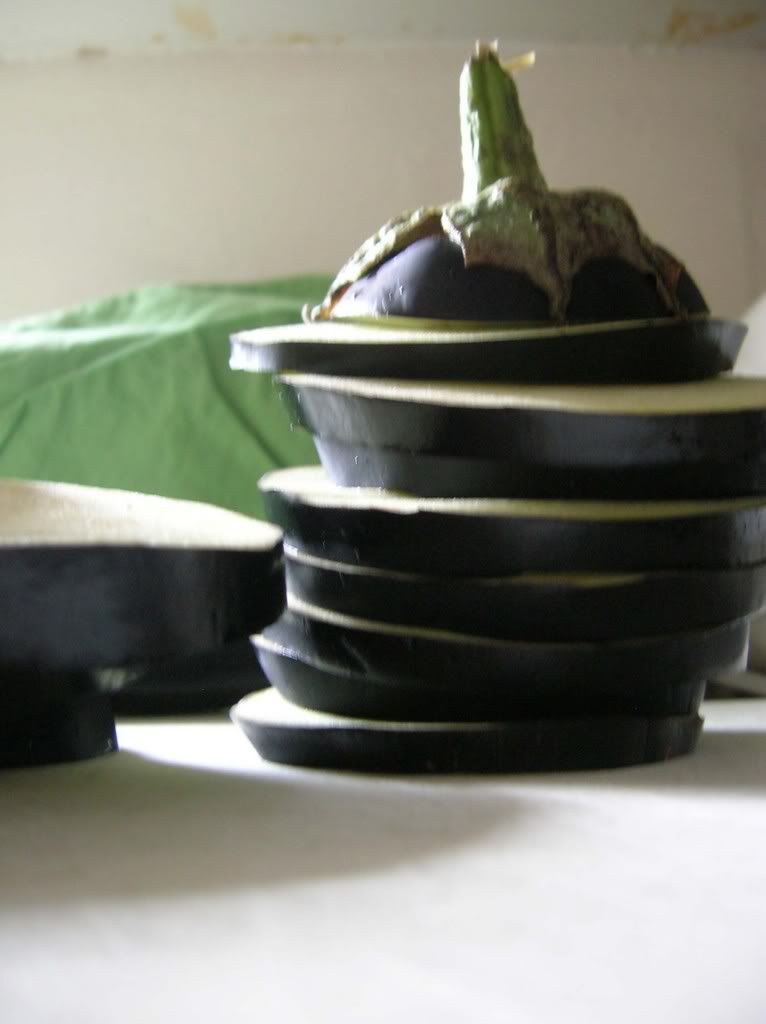 I love eggplants-from their wonderfully dark purple skins to their cream colored flesh. They are just beautiful vegetables that happen to taste as good as they look and are extremely versatile. On my last trip to the local farmers market, I happen to stumble on a rather large and perfect looking eggplant for only $1.50. This was definitely the bargain of the week. With a rather picky family, several who claim to NOT like eggplant, I needed to try to disguise and highlight this vegetable in dinner.

Veggie Lasagna with Eggplant

Filling:
1 15oz tub part skim ricotta cheese
1 small box of frozen chopped spinach
1/2 cup crumbled feta cheese
salt, pepper, dried or fresh basil to taste

Completely thaw the box of frozen chopped spinach. Place in small towel and squeeze spinach to get all the water out. You want to get it as dry as possible. Mix ricotta cheese, spinach, crumbled feta. Add salt (a generous pinch since ricotta can be rather bland), pepper, and dried or fresh basil to taste. OPTIONAL: You can beat one egg and add it to the mix, although I learned it is not necessary. Place in fridge until ready to use.

The rest of the lasagna:
1 jar of your favorite marinara sauce (I used Newman's Cabernet Marinara)
1 box no-boil lasagna noodles (Barilla works nicely- you can boil your noodles if you prefer, but I found the no-boil noodles prevent overcooked noodles)
1 large eggplant
8 oz of shredded mozzarella cheese
a few handfuls of freshly grated Parmesan cheese
*OPTIONAL: 2 medium sweet potatoes (boiled then mashed with a touch of butter, salt, cinnamon, and nutmeg)

Cut your eggplant into 1/2in thick slices. You want them thick enough so they don't fall apart in the whole cooking process. Place your eggplant slices on a well-sprayed (with canola oil) cookie sheet. Make sure each slice has its own place on the sheet and don't pile them on each other. This will cause the eggplant to steam instead of roast. Sprinkle salt on eggplant slices. Roast eggplant for about 20-25 min on 375 degrees, flipping them about 2/3 of the way through. The eggplant slices should be slightly browned and soft and creamy in the middle.

To assemble, spray your pan (I used 8inx8in) with non-stick canola oil. Add a light layer of sauce to the bottom of the pan. Place noodles, a layer of your prepared filling above, then a layer of your roasted eggplant, a light layer of shredded moz and then another layer of sauce. The second layer, continue the same process but add a layer of your mashed sweet potatoes right before you add the prepared filling.


Continue the same layers on up through the pan, layering the mashed sweet potatoes in every other layer if you so choose. At the top, the very last layer should be topped with a generous topping of freshly grated Parmesan cheese.

Preheat oven to 375 degrees. Cover lasagna with foil and cook for about 50 minutes. Then uncover and cook lasagna for another 10-15 minutes or until cheese is slightly browned and bubbly.