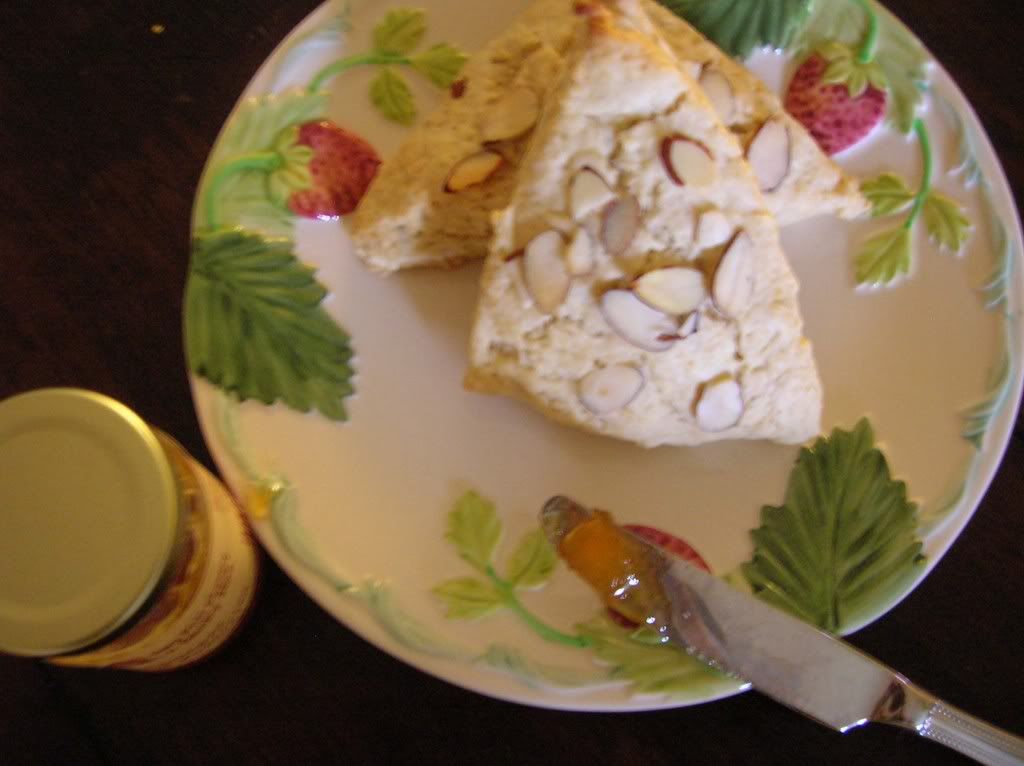 I always crave a slightly sweet snack in the early afternoon. These almond scones are perfect with peach preserves and a hot cup of tea.
Almond Scones
adapted from Tyler Florence's blueberry scone recipe on Food Network

2 cups all-purpose flour
1 tbsp baking powder
1/2 tsp salt
2 tbsp brown sugar
5 tbsp unsalted butter, cold, cut in chunks
1/2 cup heavy cream, plus more for brushing the scones
1/2 cup non-fat milk
1 tbsp vanilla extract
1 tbsp almond extract
handful of almonds for topping
Preheat oven to 400 degrees F.
Sift all dry ingredients together- the flour, baking powder, salt, and sugar. Using a fork cut in the butter to coat the pieces with the flour. The mixture should look crumbly. In a separate bowl mix all liquid ingredients together- heavy cream, milk, both extracts. Make a well in the center of the dry ingredients and pour in the liquid ingredients. Fold everything together just to incorporate; do not overwork the dough.
Press the dough out on a lightly floured surface into a rectangle about 12 by 3 by 1 1/4 inches. Cut the rectangle in 1/2 then cut the pieces in 1/2 again, giving you 4 (3-inch) squares. Cut the squares in 1/2 on a diagonal to give you the classic triangle shape. Place the scones on an non-greased cookie sheet and brush the tops with a little heavy cream. Then press in almond pieces to top. Bake for 15 to 20 minutes until beautiful and brown. Let the scones cool a bit then enjoy with some butter or preserves.