I am all about dishes that are fast, easy, and bursting with fresh flavors. When I'm tired (which seems to be all the time lately) I sometime cave in and have
A
pick up a pizza or just eat a bowl of tomato soup with a grilled cheese...both always comforting and satisfying. Yet, sometimes you just crave fresh, simple ingredients. This is exactly one of those dishes. I love insalata caprese- an Italian salad that consists of tomato, mozzarella, and fresh basil. I turned this love into a pasta dish for those days when a salad is just not enough!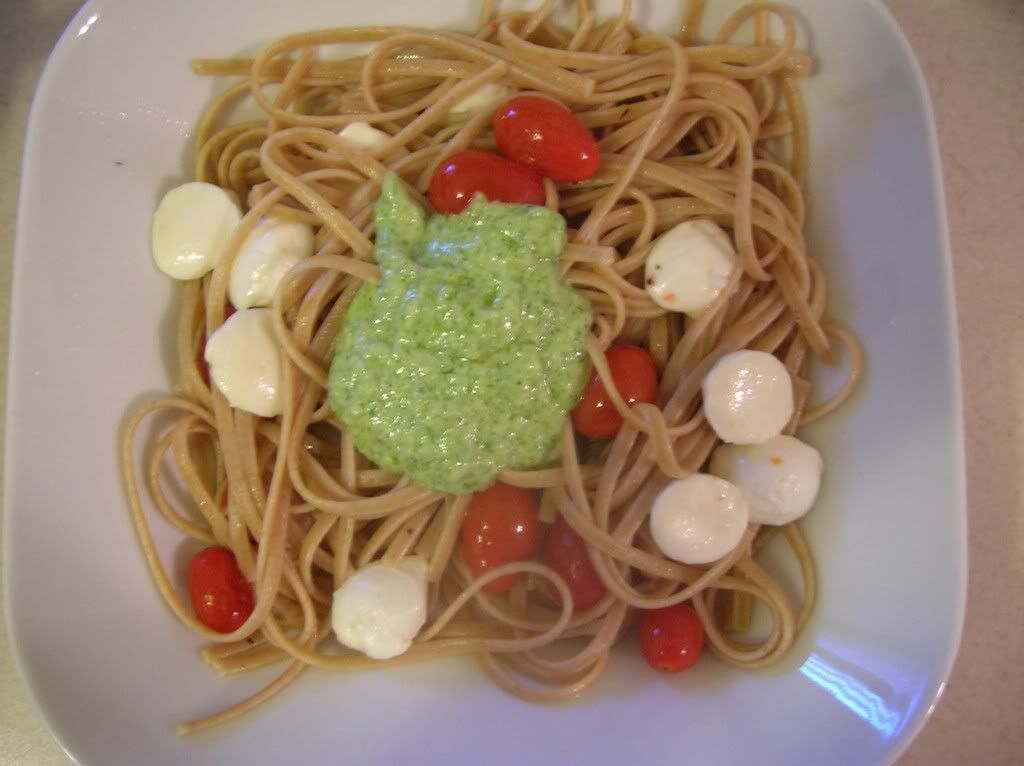 Whole Wheat Linguine with Pan-Roasted Tomatoes and Basil Cream
1/2 box of whole wheat linguine
about 2 cups of cherry tomatoes
1 cup pesto
1/4 cup sour cream
1 tub bocconcini (small mozzarella balls)
olive oil
salt and pepper (to taste)
Pesto:
1-1 1/2 cups fresh basil
1-2 cloves of garlic (I like mine with a lot of garlic, so adjust to your palate)
1/4 cup toasted pine nuts
1/8 cup of Parmesan
juice of half a lemon
olive oil
salt and pepper to taste
In a blender or food processor, blend all ingredients together with about two tablespoons of olive oil to start. Once you begin blending, start slowly drizzling olive oil through the top until it gets to the consistency to like. I prefer my pesto on the thicker side, but some people like it thinner. If you are not in the mood to make your own pesto, store bought pesto works just as well!
To assemble the pasta:
Cook linguine using box directions (make sure to salt your water!). In a medium size pan, add olive oil and roast cherry tomatoes with salt and pepper just until they start to split. Take off heat and let them cool. In the meantime, mix pesto and sour cream together. Then, toss noodles, tomatoes, and mozzarella all together and top with a generous scoop of basil cream mixture. This dish is best eaten at room temperature.