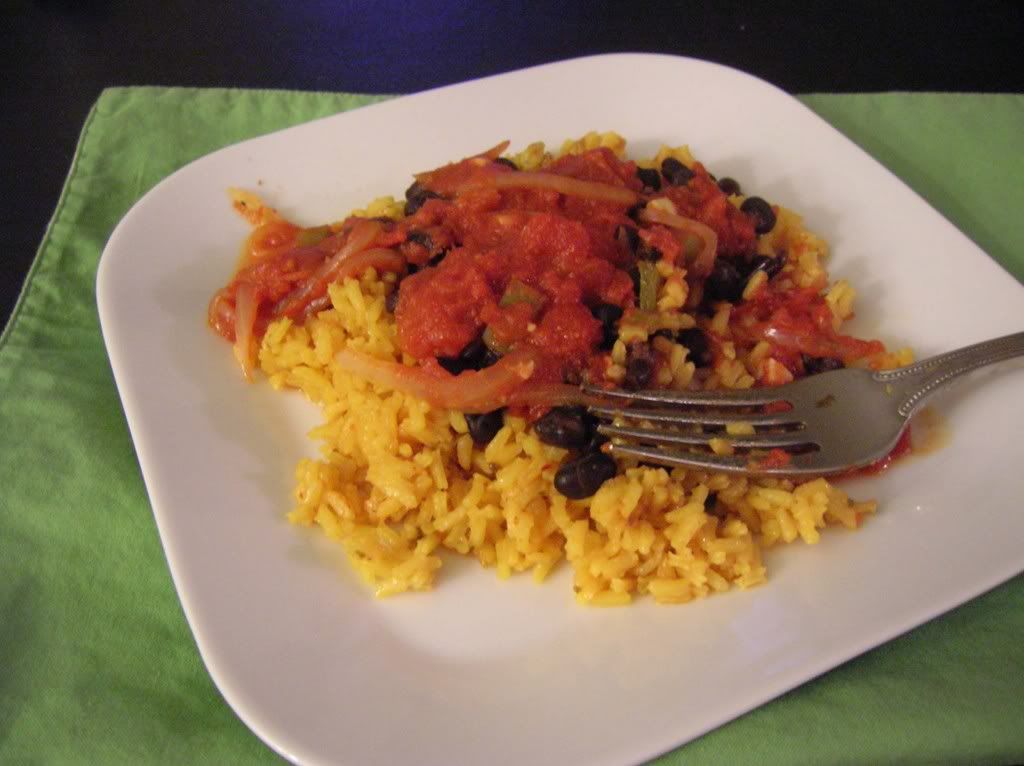 I like dishes that are really simple to make but packed with layers of flavor. When Aaron and I went to visit our friend Shannon, she made us this wonderful
sofrito
dish. Her dish had the addition of pieces of fish and scallops, which I definitely recommend. However, since we had no seafood in the house (for the exception of some curried shrimp that turned out less than great-story and better recipe to come) I kept my dish vegetarian with just beans, rice, and
sofrito
. If you are not a seafood lover and need the addition of some meat, chicken would also work nicely. Thanks Shannon for a wonderful meal and a recipe to add to my collection!
Sofrito

Dinner
*adapted from our friend Shannon's recipe
1 bag
VIGA
yellow Spanish rice (cooked according to directions on the back)
1 can black bean (heated) *I season mine with about a tsp of
chili
powder, 1 tsp cumin powder, and a splash of lime for added flavor
For the
Sofrito
:
1 28 oz can of crushed tomatoes
2 garlic cloves, minced
1 small onion, diced or cut long and thin
1
cubanelle
pepper
1/2 a lime
*1 tsp of
adobo
chili (optional- I added this to give the
sofrito
a spicy and smokey undertone)
paprika (to taste)
olive oil
To make the
sofrito
, coat the bottom of a pan with a small amount of olive oil (about a 1-2 tbsp) and saute the onions on medium heat until they are slightly
caramelized
and translucent. Add the garlic and
cubanelle
pepper. Saute all together until ingredients are softened. Add crushed tomatoes and cook for about 10-15 minutes. Add in 1-2 tbsp paprika (to taste),
adobo
chili
, lime juice, and salt and pepper (again, to taste). Let it simmer for another 10-15 minutes. Serve on top of black beans and rice.
If you are adding protein (seafood, chicken, pork), cook
separately
and season how you like. Add on top the above dish.