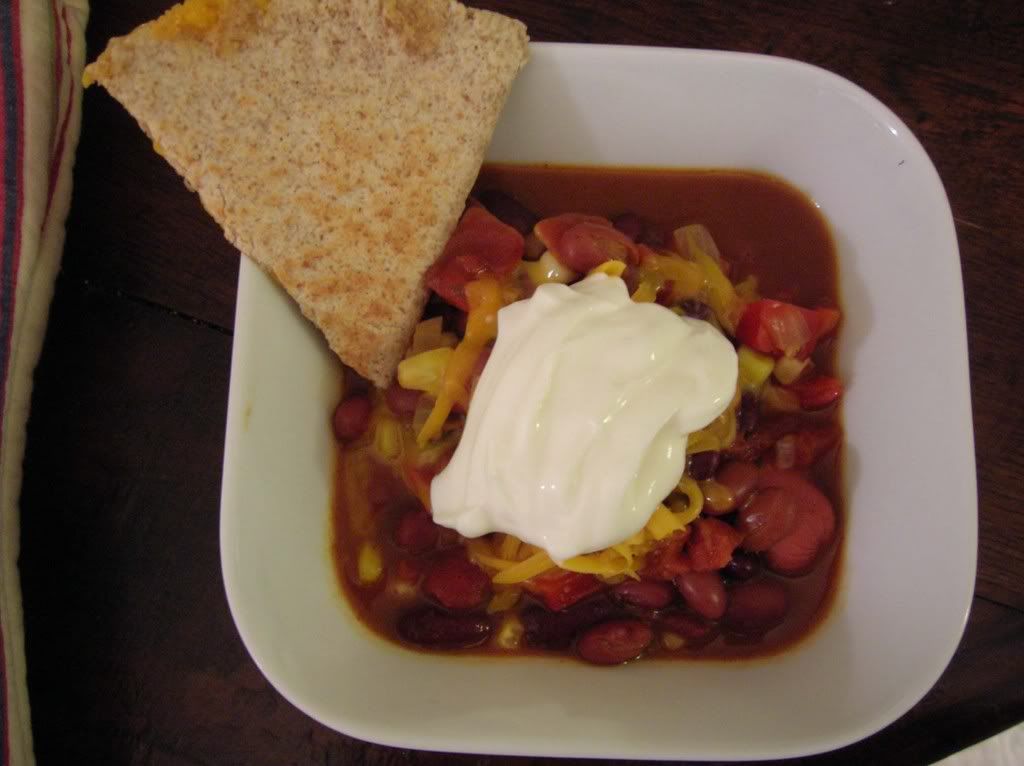 The weather has been dark and rainy lately. I wish I could say it was colder, but here in Orlando, Florida it is still a balmy 90 degrees. Even so, I still love gray days when you can hear the sound of the rain and thunder. It is almost relaxing and perfect for a bowl of veggie chili! This chili is based on my best friend Mel's dad's recipe. It was a favorite of mine and has become a "usual" in our house.
*adapted from Mel's dad's recipe
1 16 ounce can of kidney beans (drained and rinsed)
1 larger size can (I think it's a 20 ounce can) of chili beans in zesty sauce
2 16 ounce cans of diced tomatoes, with green chili and/ or in chili ready sauce
1 medium bell pepper, diced
1 small onion, diced
1 small garlic clove; minced or pressed
1/3 can or bottle of your favorite beer
1 small box of frozen corn
1 tbsp olive oil
1 tbsp unsweetened cocoa powder
1 tbsp chili powder
1 tsp cumin powder
1 tbsp brown sugar
1 tbsp worschestire sauce
In a large pot, saute onion, garlic, and diced bell pepper in olive oil until tender and slightly brown (not burned!). Add in beans, can tomatoes, and beer. Let it simmer for about 10 minutes. Then add cocoa powder, chili powder, cumin powder, brown sugar, and worschestire sauce. Let it all simmer together for another 30-40 minutes. Five minutes before serving, add in the frozen corn. Once all the flavors have infused in each other and the corn is heated, serve with shredded cheese and a dollop of sour cream. Also works great with cheese quesadillas on the side!