So, my first no-pasta meal was a very delicious concoction. I know, I basically replaced bread for pasta. Since A and I don't eat much meat, it is so much easier to use starch to bulk up a meal. Either way, this was a fabulous dinner and I am definitely adding this to my list of nightly meals. It was easy to put together and you can experiment by adding different ingredients (such as leftover veggies) to make it a whole new creation. I love versatile dishes!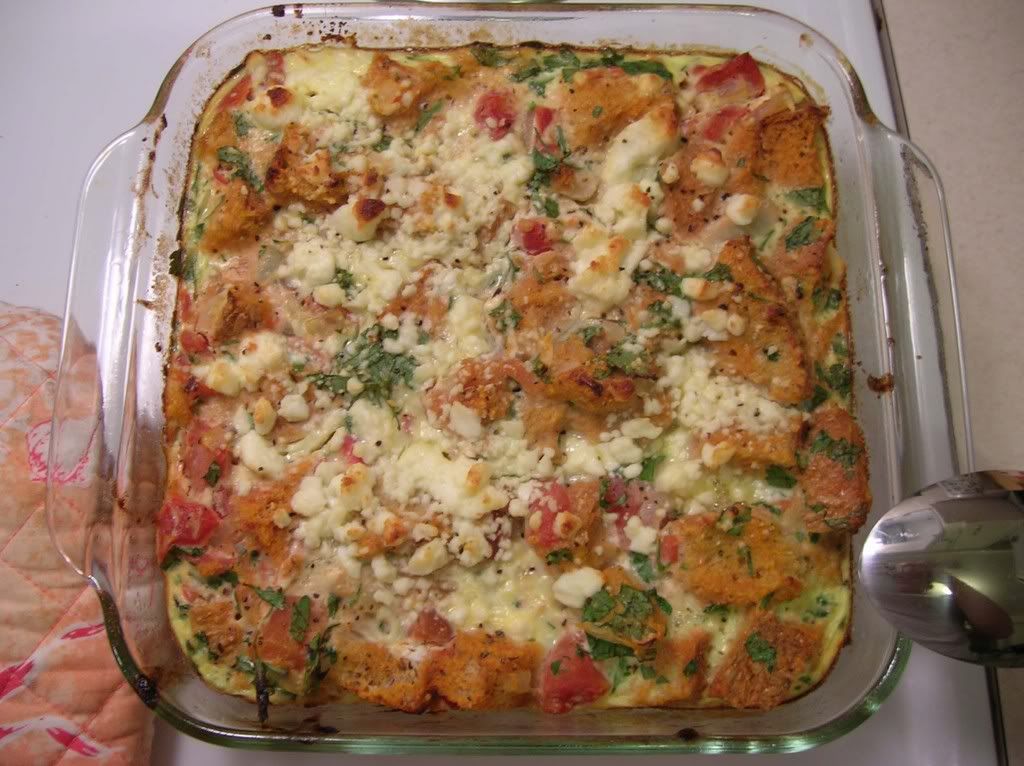 Tomato, Goat Cheese and Feta Strata
*Adapted from Food and Wine
4 large eggs
1/2 cup low fat or nonfat plain yogurt
3 tbsp chopped fresh parsley (basil would also work nicely)
1 tbsp extra virgin olive oil
1 medium thinly onion, thinly sliced
1 large garlic clove, finely chopped
1 tbsp dried sage
1/2 tsp crushed red pepper
1 14.5 oz can of diced tomatoes, Italian style (with garlic, basil, and oregano)
5 oz. of whole wheat artisan peasant bread, cut into 1 in. cubes
1/4 cup feta
1/4 cup crumbled goat cheese
Preheat oven to 450 degrees. In a medium bowl, whisk eggs, then whisk in yogurt and parsley. Add salt and pepper (a few pinches of each). In a pan cook onion in olive oil until slightly caramelized, then add in garlic, sage, crushed red pepper, and salt and pepper to taste. When garlic is slightly browned (not burned) add whole can of diced tomatoes with juice and stir together. Take pan off of heat and add in the bread cubes. Mix all together so that each piece of bread is coated in the tomato mixture.

Spray a medium size baking dish (close to 10x10) with non stick spray and add bread mixture. Pour over the egg mixture and goat cheese and mix lightly to be sure the egg and cheese seeps through all the cracks. Top with feta and bake for 20 min until golden brown. Let it cool slightly and serve.