I'm slowly starting to catch up with life and therefore have some time to put up another post. Since I'm behind posting my recipes, I'll have to back up a few weeks. This recipe was actually made two weeks prior to Thanksgiving because that is when I had Thanksgiving dinner with my family. We had so much turkey and veggies leftover! I'm not much of a "stew" person. However, to use up some leftover Thanksgiving ingredients, I threw everything into a pot to make this lovely dish. It was really more of a "stoup" (yes, a Rachel Ray term)- meaning it was thicker than a soup and a bit thinner than a stew. It is perfect for the after holiday stress!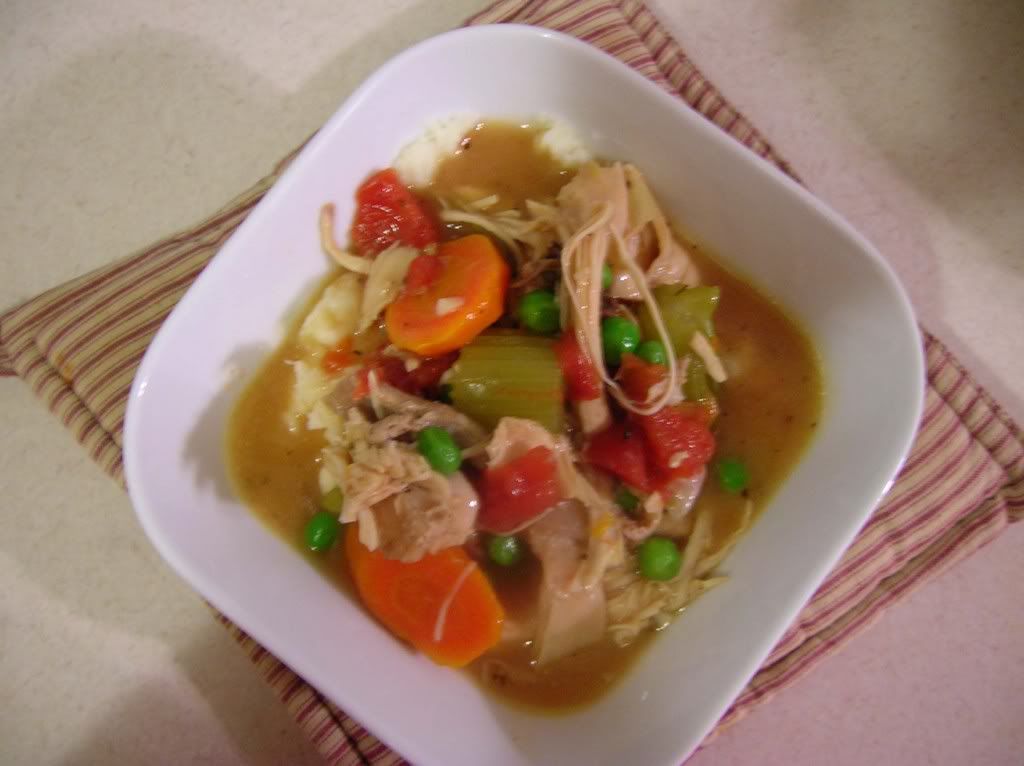 Leftover Thanksgiving Stew
Batches of leftover turkey (I leave it up to you to figure out how much you want to eat)
1 small onion (chopped into rustic chunks)
2 cloves garlic (minced)
2 carrots (chopped into rustic chunks)
2 celery stalks (chopped into rustic chunks)
1 cup frozen peas
about 1-2 tbsp of poultry seasoning
2-3 cups of chicken broth (depending on how thin or thick you want it)
2 tbsp butter
3-4 tbsp flour (depending on how thin or thick you want it)
1 medium can of diced tomatoes (with garlic and basil)
**This stew isn't very precise in it's ingredients since it really is a matter of preference.
Saute on medium heat the onion, garlic, carrots, and celery with butter until browned and semi-tender. Add in the flour and brown until it absorbs some of the butter. Add chicken broth and
poultry
seasoning. Bring to a boil then reduce heat to medium low. Add in turkey and can of diced tomatoes. Reduce heat to low and cook for about 30 minutes until flavors have melded together. If you find that the stew needs to be thicker, you can add more flour or add some leftover gravy. Add frozen peas and cook for another 5 minutes (until peas are heated through). Serve on top leftover mashed potatoes and/or stuffing.