Well, life really didn't hand me bland curry...Cooking Light did. And even so, I can't blame Cooking Light entirely for a not-so-tasty recipe since I didn't follow it. In my rush to make the curry, I had to use frozen shrimp. I was supposed to thaw it and then marinate the shrimp in the coconut curry sauce. After marinating it, the shrimp had to be steamed in a wok. Long story short, I didn't do any of this and ended up with what could only be called shrimp curry soup. I put too much coconut milk and added a touch of chicken broth. It was okay- not completely inedible. It just was boring.

Well, I didn't want to throw out a whole batch of curry "soup" and rice. What a waste that would be! With a little bit of creativity I actually came up with this recipe, which is much better.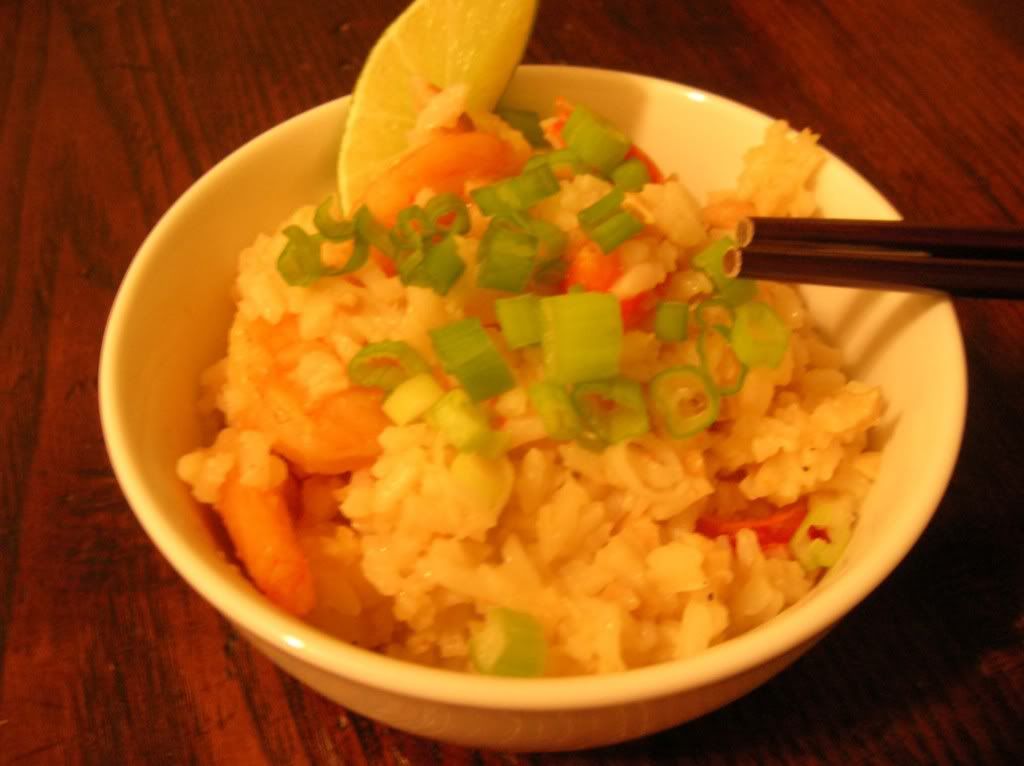 Coconut Curry Shrimp Fried Rice

*adapted from Cooking Light
1/2 can light coconut milk
1/4 cup chicken broth
1 small red pepper, diced or sliced into thin strips
1 tbsp of fresh lemon juice
1 1/2 tbsp fish sauce (or pad thai sauce)
1 tsp honey or brown sugar
1 tsp curry powder
1 1/2 pounds shrimp, peeled and deveined
1/4 cup chopped salted and roasted cashew
3 tbs olive oil
a sprinkle of chopped green onion
1-2 cups of cooked basmati rice
Lime wedges
To make the curry sauce:
In a medium pot, saute red pepper with 1 tbsp of olive oil until softened. Pour in coconut milk and chicken broth and heat together until a light boil. Add lemon juice, fish sauce, honey, curry powder, and salt and pepper to taste. Let the whole sauce simmer for about 15 minutes on medium low until all the flavors have melded together. Add in shrimp and cook shrimp until pink.
To make the fried rice:
In a wok, heat up 2 tbsp of olive oil. Once the oil is hot, add in cooked rice. Stir fry rice for about 3-5 minutes. Add in curry sauce slowly, one ladle at a time, to make sure the rice is not soupy. You want the curry to just infuse flavor through the rice, having no extra liquid settling at the bottom. Stir fry all together, adding the cashews toward the end. Take off heat and garnish with green onion and lime wedge. Optional: Add in an egg at the very center of the wok half way through the process, scrambling it in the center as you cook the rice.