I say this because if there is any pasta that describes my husband perfectly, it is definitely this dish. It has all his favorite ingredients melded together in one "manly" dish that is both delectable and filling. I am very fortunate because A is not a picky eater- he is willing to try all my creations with a fork and a smile. As he says there are things he wouldn't "prefer" but "I just eat to eat." HA! Spoken like a true man...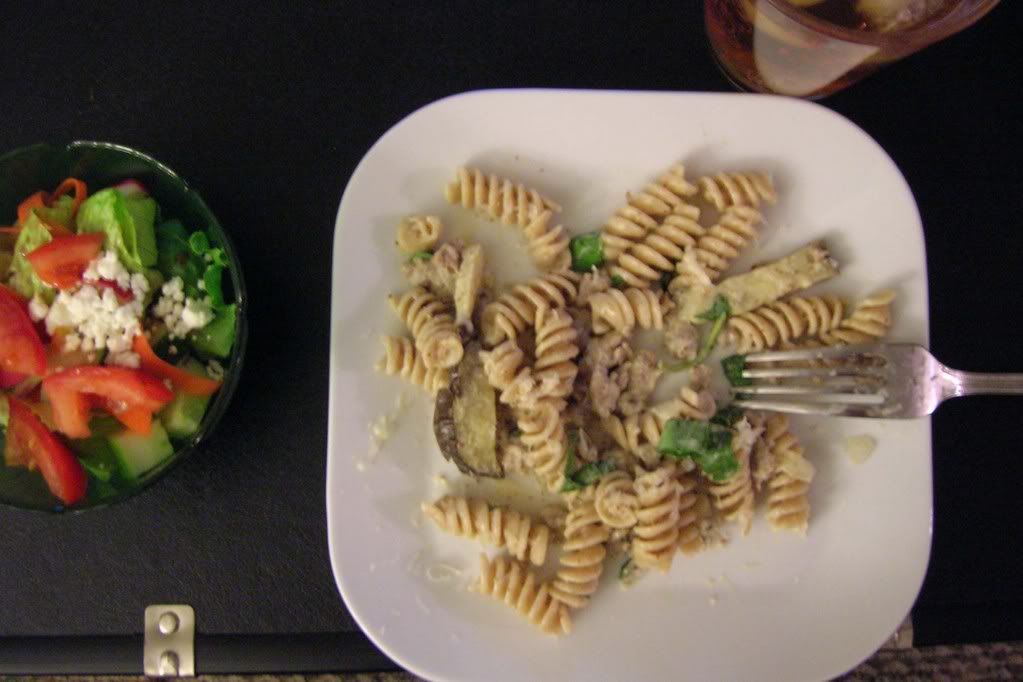 Pasta with Sausage, Basil, and Mustard
from Food and Wine
1 pound penne or medium shells (whole wheat pasta works great!)
1 tablespoon extra-virgin olive oil
8 hot Italian sausages, meat removed from casings and crumbled (about 1 1/2 pounds)
3/4 cup dry white wine
3/4 cup heavy cream
3 tablespoons grainy mustard
Pinch of crushed red pepper
1 cup thinly sliced basil
**I added a tbsp of honey into the sauce to cut some of the bite of the mustard. Also I put slivers of eggplant which ended up being my favorite part of the dish. So, for all you veg heads, just substitute eggplant or mushrooms for sausage.
Cook the pasta in a large pot of boiling salted water until al dente; drain. Meanwhile, heat the olive oil in a large, deep skillet. Add the sausage meat and brown over moderately high heat, about 5 minutes. Add the wine and simmer, scraping up the browned bits from the bottom, until reduced by half, about 5 minutes. Add the cream, mustard and crushed red pepper and simmer for 2 minutes. Remove the skillet from the heat, add the pasta and basil and toss to coat. Serve at once.