Lately, I've been baking more than I've been cooking. I'm not sure why that is the case, but perhaps it is easier to make the effort to make treats instead of a meal. Either way, it has been wonderful making time to do the things I love. In the next few months we'll be making some changes around the house. A and I will finally be making the effort to do the renovations we've been putting off for so long. Once those renovations start happening, especially in the kitchen, A and I may have to use his little boy scout camping stove in order to make dinner. That will be interesting! We've done it before when the hurricanes knocked out our power. So we can survive!
Until then, we'll see what I can do in the kitchen. These muffins were based off a banana bread recipe I found in one of my cookbooks. I made some alterations, which is reflected in the recipe below. They came out moist and delicious! They are really good with a swipe of whipped cream cheese too.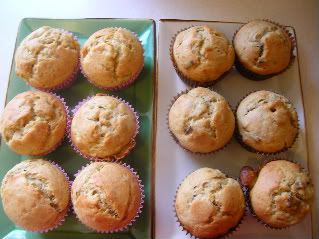 Banana Bread Muffins with Dark Chocolate Chunks
Adapted from Gifts from the Kitchen , Parragon Books
Makes 12 muffins.
2 cups all-purpose flour
1 tsp baking powder
1/4 tsp baking soda
1/2 tsp salt
2 eggs
1/2 cup sugar
1/2 cup vegetable oil
1 tsp vanilla
3 bananas, mashed
1/4 cup vanilla yogurt mixed with 1/4 cup light sour cream
few shakes of cinnamon
couple handfuls of dark chocolate chunks
Preheat oven to 35o degrees.
Sift together flour, baking powder, baking soda, and salt. Put aside
Cream eggs and sugar together with an electric mixer. Add oil and vanilla, and mix well by hand. Mix in mashed bananas and cinnamon.
Add flour to wet ingredients, but alternate with adding the yogurt mixture. Finally, mix in the chocolate chunks.
Fill baking cups about 2/3 of the way. Bake for approximately 30 minutes until a toothpick comes out clean.