When I worked at Starbucks in graduate school, they sold these amazing molasses cookies. They were soft and chewy with a slightly spicy bite. They were such a treat! I've been craving these cookies and discovered that there isn't one Starbucks in our area that sells them. Did that stop the cravings? Of course not! Instead, I put on my baker's hat and decided to make some of my own molasses cookies. To my surprise (since baking is not one of the skills I have perfected yet) they came out delicious! They tasted just like the ones I love at Starbucks, but even better since I made them. These will definitely go in my cookie files!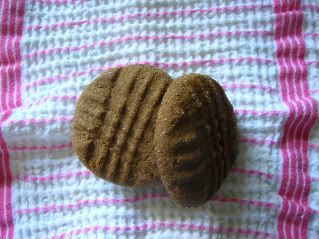 Molasses Cookies
recipe directly from kattitudes.com
2 cups flour
1/2 teaspoon baking soda
1/2 teaspoon salt
1 teaspoon ground cinnamon
1/2 teaspoon ground ginger
3/4 cup sugar
1/2 cup unsalted butter, softened
1/2 cup molasses
1 large egg, lightly beaten
1 tablespoon grated fresh ginger root

Sift flour, baking soda, salt, cinnamon, and ground ginger together on a sheet of waxed paper and set aside.

In a large mixing bowl, cream together 1/2 cup of the sugar and the butter until light and fluffy. Add molasses, egg and ginger root and beat until light. Gradually add the flour, stirring until well blended. Cover dough and chill for at least one hour or overnight.

Preheat over to 350 degrees F.

Form dough into one inch balls, rolling them between the palms until smooth and round. Spread remaining 1/4 cup sugar on waxed paper and roll each ball of dough in sugar. Place dough balls two inches apart on greased baking sheets.

Bake in the center of hot oven until tops are rounded and crinkled and the cookies are just beginning to color, about 12 to 14 minutes.
Remove from oven and transfer to wire racks to cool. Store in tightly covered container.