One of my favorite comfort food dishes is
pho
- Vietnamese noodle soup. One of my best college friends is half Vietnamese and she introduced this soup to me. I crave this soup when I'm unhappy; I crave it when I'm sick; I crave it when I don't want to eat at all. It is amazing how this one dish can make me feel better inside and out. It is also perfect after you've eaten poorly for a weekend and just need something light and satisfying. I usually force A to go out for
pho
, and he is kind enough always to indulge me. You see, he does not like
brothy
soup. I know! Who doesn't like soup? But, that is probably a whole other entry in itself.
After our anniversary trip to Amelia Island where we had AMAZING food (really, really amazing food like shrimp and grits and pulled pork pizza) my body just needed a moment to breathe. Instead of going to my favorite little Vietnamese restaurant, I decided to tackle this myself. I've been wanting to make
pho
on my own, but it always seemed so difficult. However, if you do my cheat way, it actually was really easy. I used store bought veggie broth and used all the
pho
spices to give it that little something. Add a little veggie and poached chicken, and voila! Yummy, comforting
pho
.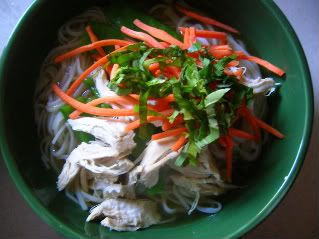 Deb's

Pho

in a Pinch
For the broth:
1 large box of organic veggie broth (no MSG!)
1 medium cinnamon stick
3 whole cloves
2 star
anise
1/4 tsp
coriander
1/4 tsp Chinese five spice
sprinkle of salt
1-1/2 inch chunk of ginger
Bring broth to boil. Place cinnamon stick, cloves, and
anise
in a tea bag or tea ball and add to broth. (Or, you can do as I did and fish it all out later.) Add ginger,
coriander
, and five spice. Let broth simmer on medium-low heat, covered, for about 30 minutes. Add salt to taste.
For the soup:
1 bag of medium-width rice noodles (cooked according to package directions)
2 poached chicken breast, pulled (
I poached the chicken in chicken broth with ginger and garlic. I also added the broth from the chicken to the broth above to not waste it.
)
Variety of veggies (shredded carrots, snow peas, mushrooms...anything is good)
Fresh
shredded
basil and
cilantro
to top it all off
Lime wedges
Arrange the soup as follows: noodles, broth, chicken and veggies, basil and cilantro, and lime splashed on top.
I like my
pho
with some
sriracha
and
hoisin
at the end to taste.