Okay, I have not kept up my end of the bargain and have not posted as much as I would like. I PROMISE to be better! Really!
So, now that I've apologized, let me tell you about the make-shift pasta I made. It was so good! The pasta was inspired by trying to use up some leftover stuff in my fridge (how most pastas are inspired in my kitchen). I don't really have exact measurements but I took my best guess at what I thought it could be. However, there really is no way to mess this up and you can add whatever leftovers in the kitchen. The key ingredient was really the organic veggie broth.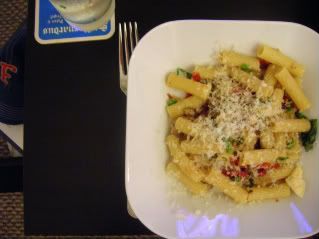 Monday Night Pasta
2/3 box of rigatoni pasta
2 cloves chopped garlic
8-10 medium crimini mushrooms, chopped
1/4 cup sliced sun dried tomatoes
1/3 of an onion, chopped
1 cup of organic vegetable broth
olive oil
salt and pepper
small hand full of chopped basil
shredded Asiago cheese for the top
Cook pasta according to box directions
Saute onion in olive oil (enough to lightly coat pan). Once onion is softened, add mushrooms and garlic. Saute until onion is slightly caramelized, and garlic and mushrooms are browned. Deglaze the pan with vegetable broth, scrapping the bottom to get all the brown bits. Cook for about 5 minutes, until broth has become more condensed. Add sun dried tomatoes. Cook for another 2-3 minutes. Add in cooked pasta. Serve with a good helping of Asiago cheese and basil.