I've been having weird cravings lately- crunchwraps from Taco Bell, turkey burger with extra pickles, gummy bears, and Indian food. No, I'm not pregnant, but you'd think it by the strange combination of things I've wanted to eat. I did eat a crunchwrap over the weekend (check!), which I know doesn't follow my buy real and organic food diet. Whatever, life is too short anyway. The Indian food I attempted to fix on my own. I've been wanting to dabble in making more Asian and Indian dishes since that is an area of cooking I have not really explored. A and I love Indian food and sadly we can't get very good Indian food in Florida like we could in Boston. (We had our very first date at an Indian restaurant!) So to remedy this and not spend money going out all the time, I attempted to make Chicken Tikka Masala. I say "attempted" because it was a mish mash of four different recipes and it didn't taste like restaurant quality. The picture isn't a good representation since it tasted much better than the way it looks in the picture. I wanted to take a picture of it "plated" but forgot in my hunger. Enjoy! It's worth trying with shrimp, tofu, or veggies too!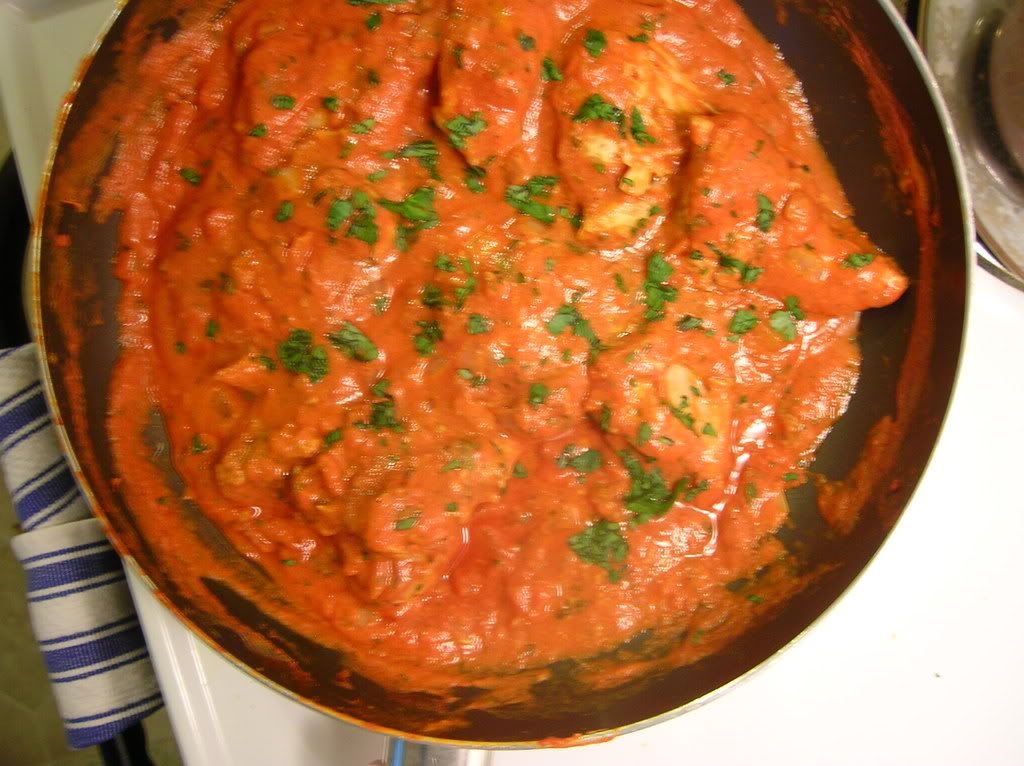 Tikka Masala- style Chicken
For the marinade:

4 large skinless, boneless chicken breasts or thighs
1 cup yogurt (low fat or Greek-style work best)
1 1/2 tsp garam masala
1 tsp cumin
1 tsp cayenne
1 tsp ginger (freshly grated or powder)
1 tsp turmeric
a few good pinches of salt and pepper
Mix all the spices into the yogurt. In a large ziplock bag, mix the chicken and the yogurt marinade. Let it marinade in the fridge for at least 4-6 hours (overnight if possible). When ready to cook the chicken. place in a baking dish (discarding any left over marinade) and bake at 400 degrees for about 20-30 minutes until chicken is cooked through. You can also cook it out on the grill too!


For the sauce:
1 8 oz can tomato sauce
2/3 small can (4 oz) of tomato paste
1 small onion, diced
2 cloves finely minced garlic
1 1/2 tbsp fresh lemon juice
1 1/2 tbsp garam masala
1 tsp ginger
1 tsp cayenne
1 pinch cumin
1 tbsp butter
1 tbsp olive oil
1/2 cup of whipping cream
2-3 tbsp fresh chopped cilantro
Over medium heat, brown the onion using butter and olive oil. Add in the minced garlic toward the end to brown, making sure it doesn't burn. Add tomato sauce and tomato paste. Once it is thoroughly mixed and starting to heat through, add lemon juice, garam masala, ginger, cayenne, and cumin. Cook at medium low heat for 15-20 minutes. Add in the whipping cream and chicken. Cook for another 15-20 minutes. Sprinkle fresh cilantro right before serving. Goes great with brown or basmati rice.