There are several things I love about the South, and one of those things is the FOOD! I love Southern food, from BBQ to collard greens. Since I've been living here, I'm trying to make some Southern specialites. So, what better way to celebrate Valentines Day but with Red Velvet cupcakes! I found the recipe below from Desert Candy. However, as usual, I cheated due to lack of time. I made the cupcakes from a box mix (which was still pretty darn yummy) and did make the frosting below minus the mascarpone (since it wasn't in my local grocery store that day). All told- some of the best cupcakes I've ever had!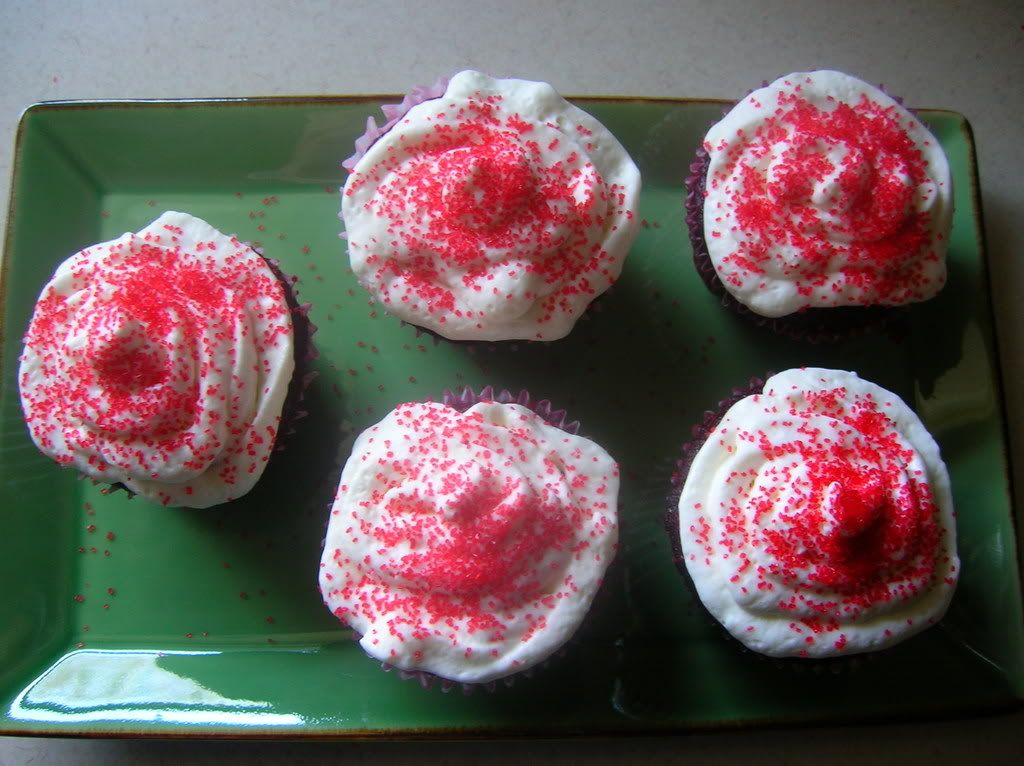 Red Velvet Cupcakes
recipe directly from Desert Candy (a GREAT blog)
This has a surprising amount of red food coloring in it, so make sure you have enough on hand before proceeding.

3½ cups cake flour
½ cup unsweetened cocoa (not Dutch process)
1½ teaspoons salt
2 cups canola oil
2¼ cups granulated sugar
3 large eggs
6 tablespoons (3 ounces, 1/4 cup plus 2 tbl) red food coloring
1½ teaspoons vanilla
1¼ cup buttermilk
2 teaspoons baking soda
2½ teaspoons white vinegar

1. Preheat oven to 350 degrees. Grease 3 round 9-inch layer cake pans and line bottoms with parchment.
2. Whisk cake flour, cocoa and salt in a bowl.
3. Place oil and sugar in bowl of an electric mixer and beat at medium speed until well-blended. Beat in eggs one at a time. With machine on low, very slowly add red food coloring. (Take care: it may splash.) Add vanilla. Add flour mixture alternately with buttermilk in two batches. Scrape down bowl and beat just long enough to combine.
4. Place baking soda in a small dish, stir in vinegar and add to batter with machine running. Beat for 10 seconds.5. Divide batter among pans, place in oven and bake until a cake tester comes out clean, 40 to 45 minutes. Let cool in pans 20 minutes. Then remove from pans, flip layers over and peel off parchment. Cool completely before frosting.

Whipped Mascarpone Frosting for Red Velvet Cake
2 cups heavy cream, cold
12 ounces cream cheese, at room temperature
12 ounces mascarpone
½ teaspoon vanilla
1½ cups confectioners' sugar, sifted

1. Softly whip cream by hand, in electric mixer or in food processor. Cover in bowl and refrigerate.
2. Blend cream cheese and mascarpone in food processor or electric mixer until smooth. Add vanilla, pulse briefly, and add confectioners' sugar. Blend well.
3. Transfer cream cheese mixture to bowl; fold in whipped cream. Refrigerate until needed.