There are days when I come home and just want to eat a bowl of soup and nothing more- easy, quick, satisfying. However, there are days when I want a meal- I mean a real meal that tastes like I actually put some effort into it. I've been making more of an attempt to try branching out a bit rather than making the usual dishes that I always linger toward. While watching Nigella make her "Coq au Riesling" I decided that I was going to attempt this dish. (Nigella always makes everything look so tasty!). I used Nigella's recipe as a base and made my own changes. I had to improvise a bit due to budget. Click on the "Nigella Express" link to go to her recipe (which I'm sure tastes fabulous!)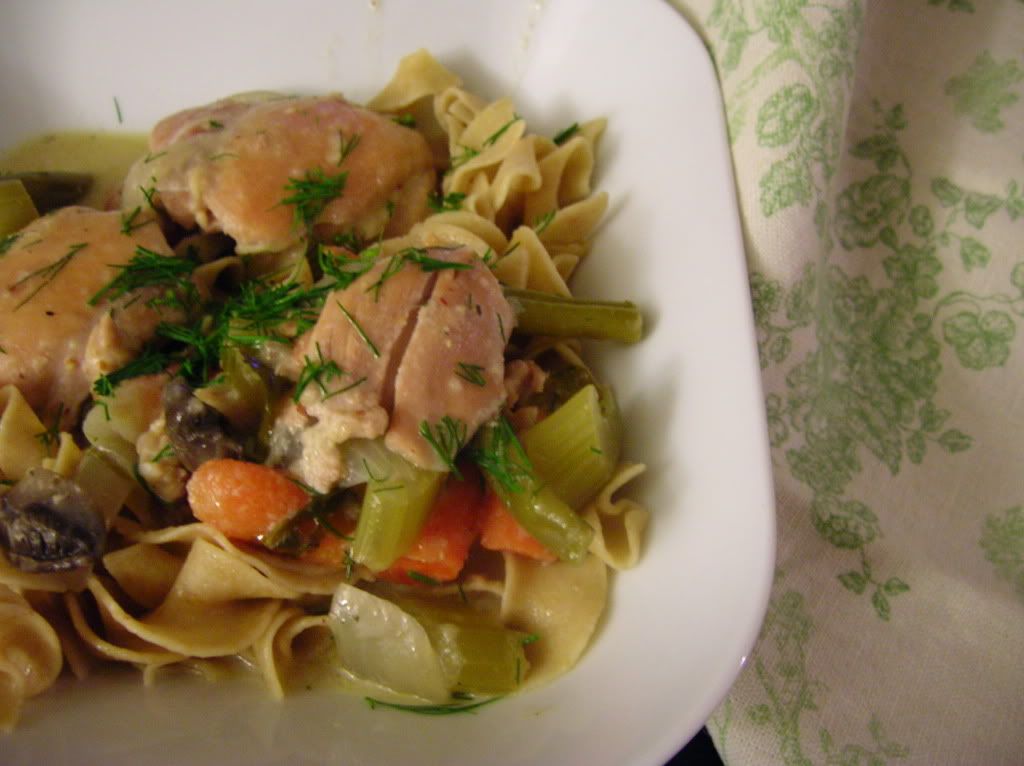 Coq au "Sauvignon Blanc"
inspired from Nigella's Express Coq au Riesling (Foodnetwork)
1 tablespoons garlic, minced
1 cup bacon, diced
1 small onion, diced
2 celery stalks, roughly cut
2 carrots, roughly cut
1 cup green beans
6 skinless and boneless chicken thighs
2 bay leaves
10 ounces mushrooms (baby bellas)
1/2 bottle white wine (I used Sauvignon Blanc since it was affordable)
1/3 cup chicken broth
Salt and freshly ground black pepper
Olive Oil
Flour
1 to 2 tablespoons freshly chopped dill leaves
Buttered egg noodles
Heat the oil in a casserole or large wide pan and fry the bacon bits until crisp. Drain out some of the oil, leaving about a tsp in the pan.
Add about a tablespoon of olive oil and the diced onions. Cook until softened and slightly carmelized.
Salt and pepper about 1/2 cup of flour, and lightly coat chicken in flour.
Add in chicken to pot and lighlty brown. (Again drain a bit of the oil/ fat once slightly brown.)
Add mushrooms, celery, carrots, green beans, wine, chicken broth, and bay leaves.
Season with salt and pepper and bring to boil.
Cover and simmer for an hour.
Sprinkle with freshly chopped dill and serve with buttered egg noodles.
*You can add whatever veggies you may have left in your fridge (as I did).