I did get my half of a hurricane day, so that means I did get to make cupcakes. Hooray for hurricane day cupcakes! Fortunately, good old tropical storm Fay barely made an entrance for us. We just had some wind and rain. Our trees are still intact and we did not have to camp out with candles or a boy scout camping stove.
I saw this recipe for cupcakes on
Nigella's
show this weekend. I have failed several times at making cupcakes from scratch. They always came out too dry and hard. This, on the other hand, is one of the best cake recipes I've used! The cupcakes were AMAZING! They were moist and slightly fluffy, but still dense enough that you could tell they weren't from a box. It yielded exactly twelve cupcakes, which is perfect because I didn't want to be eating cupcakes all week. It is just such a great and easy recipe to have.
For the frosting, I didn't make her royal icing since I still get a little
weird
about using raw eggs. I'm sure eventually I'll get over it. Instead, I made a lemon white chocolate
ganache
frosting. It was such a good match for the cupcakes!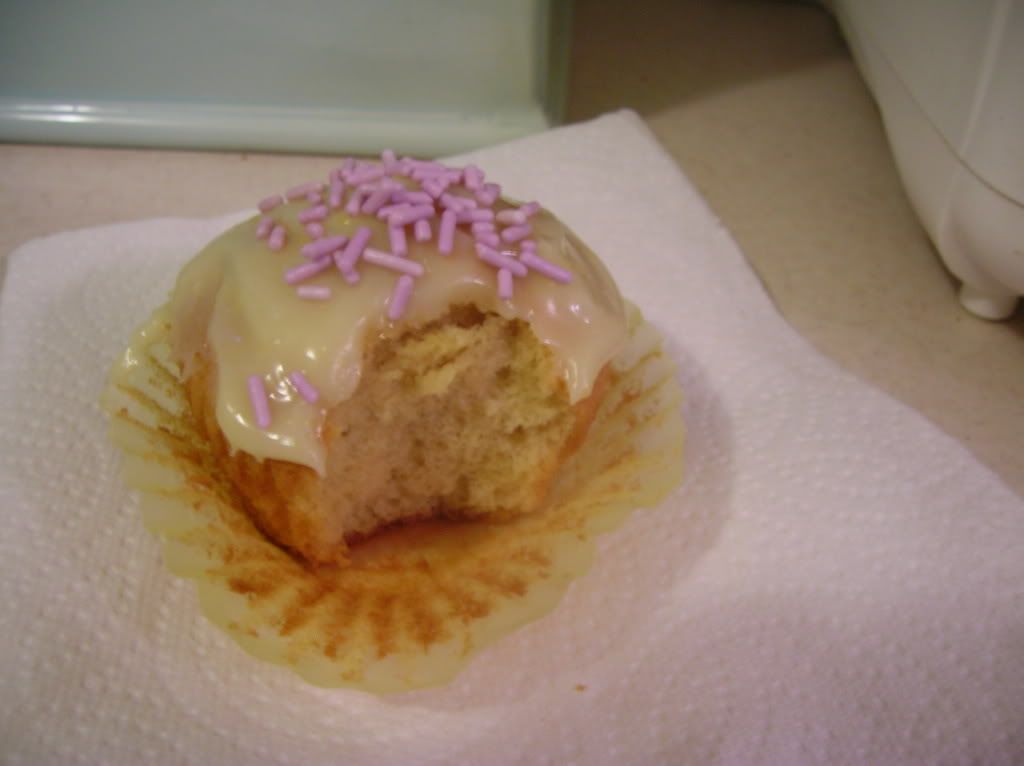 Nigella

Lawson's Cupcakes
You can find the recipe
here
.
A few changes I made: I added one tbsp of almond extract instead of one of the tbsp of vanilla. I also added another tbsp (or two) of milk to thin the batter out a bit more.
Lemon White Chocolate

Ganache

Frosting
1 1/2 cup good quality white-chocolate chips or shavings
zest from one medium lemon
juice from 1/2 the lemon
2-3 tbsp milk
Melt the chocolate chips using a double broiler (or a double broiler method). Once melted, whisk in the rest of the ingredients until smooth. You can add more or less milk depending on the consistency you want. Let it stand for about 10-15 minutes to thicken and cool before frosting cupcakes.
I've done this method with dark chocolate chips and oranges too, and I've added lime instead of lemon to the above recipe. Both are great versions of the above frosting!